----------------------------------------------------------------------
Date: July 15, 2004 5:01:55 AM PDT
From: Rob
Subject: Inside Secret Secret
Hello Everyone!
What an adventure we had this time. It's actually difficult to believe it's over, and yet of course it is still continuing... PMX, KUF, and TDC were all pretty amazing events. To each of you that played a part in this thank you so much! :)
Japan
Japan was great. I think having Dylan along really made a phenomenal difference. Aka-neko was going on and on about him when I saw her at the show I did alone at head power. She also took some great photos of us in Kobe that I'll be sharing. As on previous sojourns Yuki helped out on bass. Dylan and I went to one of Yuki's shows. We had no idea that he was the lead vocalist for his new band - damn he's great! zAkaro also joined us this time. She played electronics, keyboards and drum pads. She totally added that something special to the group. We were very well received in both Kobe and Tokyo. In Kobe we had the kids hand dancing, and in Tokyo we got not only an encore, but and ovation. It was just super.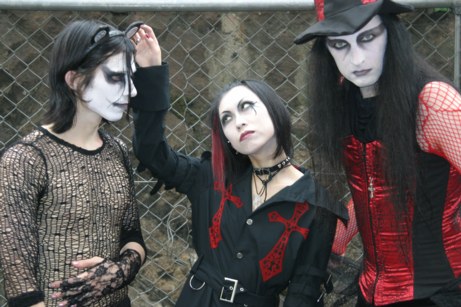 (thanks to Key for this photo)
Halloween Adventures
We are going back to Japan for Halloween, and will also join the Gothic Halloween event in the Philippines.
http://www.subkultureworld.com/
Here is review of Eve of Destiny after they played the Philippine show that we'll be at:
http://www.eveofdestiny.co.uk/manila_tenyearsafter.html
Doll magazine!
The punkish indies magazine Doll out of Tokyo is interested in us. Dylan and I were at a book store in Shibuya when I saw the Horrorpops on the cover. So Dylan wrote down a bunch of the info and I went and called them. I met with one of the editors who is very interested in us. We hung out at the Shinjuku Saizaria for about an hour or so. Davo is doktoring up some photos from TDC and just as soon as these are ready I'll be sending them to Doll. This will be our first real SS article in a Japanese magazine!
Shoxx
Speaking of being in J-mags, the current issue (number 8) of Shoxx! has a report on PLC at PMX. There is a small photo of me in costume where Lida writes about how pretty my white goth makeup is and that he would like to be as tall as I am. First time for SS to be in Shoxx. I was in Harajuku doing promotion and this girl comes up with a copy of Shoxx and says "Is this you?" Sure enough it was - but it was news to me!
Gothic Lolita Bible
Our good friend Shisen called us up and said "Tomorrow is street snap for Gosu roli bible. Can you go?" So Dylan and I got all dolled up and met Shisen in Harajuku. It was quite fun as people were looking and going sugoi! This is in Harajuku mind you where people dress up all the time. So they were quite surprised to see this very tall person so dressed up. We get to the street snap section and we meet with the GLB people. Whom I actually have met previously so we did the Hisashiburi thing. :) They grouped us together Dylan, Shisen and I, and photographer took like 30 pictures in about 30 seconds. Very fast. It was amazing. Then we filled out these ankeo forms. So hopefully we'll be in the next GLB street snap. :) GLB did show up for KUF, but they were missing from TDC.
In any event it seems that we are continuing to get magazine coverage for our exploits in Japan, and it does seem to be increasing which is great. :)
Book of Secret Secret
Book of Secret Secret is coming along (yes I admit to getting this idea from the Cruxshadows!). This is a website with various information relating to SS that really doesn't fit on the SS site. I've been doing a bunch of CSS research and what not to get this happening. If you have associates that can do fan art that would be great. Plus photos and what not for it will be great too. Scan the stuff in and send it to me. :) I should have something to check out soon.
Is That A Band?
It seems that the red tight action for TDC worked out quite well - here's how we got there... Dylan and I went to a friend's show where we met up with another friend. Our friend commented on how one of the bands didn't even look like they were in a band together. It didn't phase me much at the time, but then I was hanging out with Dylan back at the gaijin house and I saw this photo from PMX:
(with our buddy Jason)
Oh my! We don't look like we are in a band either! So Dylan and I put on our thinking caps. This is like two days before TDC, and we came up with an idea and quickly went to work. With the help of our friend Asato we were able to find some shorts for Dylan, and I was able to find red tights for everyone. Chihiya told me about this great sock shop in Shibuya. It took me forever to find it, but I finally did. But they were out of black and red tights. They did have some black and red stockings, which I picked up for zAkaro. Then I met zAkaro and Chihiro in Ikebukero where I came across another cool sock store (not to mention a cool place with yummy vegi gyoza!) where I did find some black and red tights for both Dylan and Yuki. So we had a bit of a plan, which got supplemented with the help of Isora and Shisen doing gothic makeup for Yuki and Dylan respectively. It came out like this: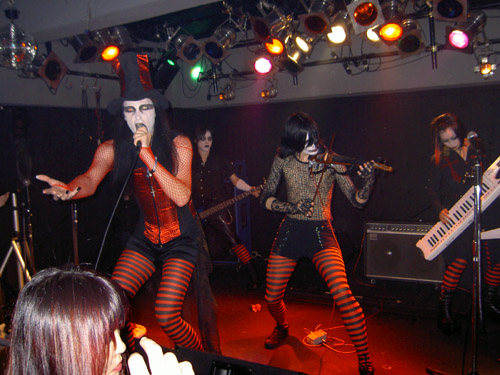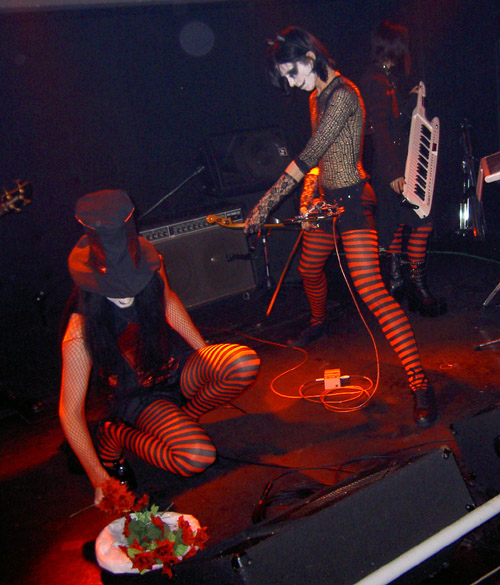 (thanks to Steven for these photos)
So it wasn't perfect, but at least we did kind of look like a band this time. :)
Pippy Long Stockings
Funny thing about these stockings. While I was at the sock shop I bought a bunch of these stripped stockings. I got some blue ones, purple, and white. They only had one red set which I gave to zAkaro. Anyway I've been wearing them around LA here and people keep asking me where I got them. They get a bit disappointed when I tell them Shibuya!
Musician?
I was walking through Shinjuku on my way to the Citibank when I saw a fellow "gaijin" wearing a recording shirt. I asked him if he was a musician and we quickly became friends. Turns out that he also has an indies record label, is a vegetarian and knows a lot about Tokyo. I showed him my cd packaging that I put together for the SFGSI comp which he really likes. So he introduces me to his friends at J-Sleeve. They were very impressed by the packaging. Really it was quite fun being in a office full of people who all day long put cd packaging together looking at the SFGSI with sparkles in their eyes saying sugoi. They actually wanted to license the design, but it turns out that another company has applied for a patent on a very similar design. There is still a chance of course, but not like there would have been. Anyway my friend, his name is Todd, was a great help and quite a bit of fun to hang out with. He travels all over the planet doing audiophile recordings of the most interesting bands. He also treated me to this fantastic vegetarian chinese food near his office. It was so so so good. And much like Neil helping me last time Todd helped me get to the airport by lugging one of the bags to the train to the airport. Really this is a big deal because these bags are very heavy! :)
Sheena is a punk rocker
One day Dylan and I were taking the train on our way to somewhere (Harajuku I think). I saw this dude dressing very cool in somewhat of a punk rock outfit with a pink shirt. So I gave him an SS flyer and started chatting with him. Turns out that he's from China and attending a music school in Shibuya. He invited us to meet his friends, check out his school and what not. His name is Lee and he became one of Dylan's best friends in Tokyo. He also introduced us to Seth and Asato. Asato became a great friend helping us with shopping and some translation stuff. She also sews and is studying fashion.
Speaking of fashion we can't leave out the Kikirara Experience!
Kikirara Shouten is one of the coolest corset shops in Tokyo. They make the cutest things. Kiki has been a friend of mine for some time now. On my previous adventure I got to help her put her new shop together. That was without a doubt one of the most enjoyable things I got to do, because the Rara chama are just super awesome people to hang out with. I met Kiki and her staff the first time I performed at Alamode event. That was one magical night. Anyway, Kiki rings me up and asks if I would like to join them for a photo shoot. Of course I said yes! The shoot was held at a location near head power (the club where Alamode goes on). This location is a bar with very attractive decor. We arrive in the evening and it's an all night shoot. They have a friend, Kagami, that takes all their photos and also puts their website together. He is very good at what he does.
In addition to the three Rara ladies there were also two other fellows (including clown), so six of us all together for in front of the camera. They put together several scenarios to photograph. I was dressed up as a aristocrat type, a monster, and a school teacher (another kind of monster really). For a short time I was on the top page of their site. They rotate through some photos so it's a fun site to revisit, and of course check out their great corsets:
http://www.kikirarashoten.com/
(photo by Kagami)
We Need a Banner!
So we got this idea in our heads that we were going to get all dolled up, go to Harajuku on Sunday, and do promotion. But we wanted to make a banner and hang it on the wall. So we went to Nippori with Laura to pick up some fabric to use to make the banner. Of course we went to Tomato and I found some crushed velvet at 100 yen per meter. What a deal so I bought something like 10 meters of it. I called Kiki and asked if I could use her machine to sew up a hem on it? She said it was okay and off I went. Once the hem was done Kiki asked how I was going to go about finishing it? I explained how we were going to spray paint it and she offered to help. So we all when out side, laid out the fabric, where this guy tried to ride his bicycle over it! It became kind of obvious that we were going to have some difficulty. That's when Kiki said that she could sew up some letters for us. I was a bit torn because I knew that if she did this it would be fantastic, but it would also mean that we wouldn't have the banner for use in Harajuku. Oh well - no Harajuku banner action, but I was very happy because if you've ever seen anything that Kiki has made you'd know that the banner would be awesome...here is how it came out: